June 14, 2022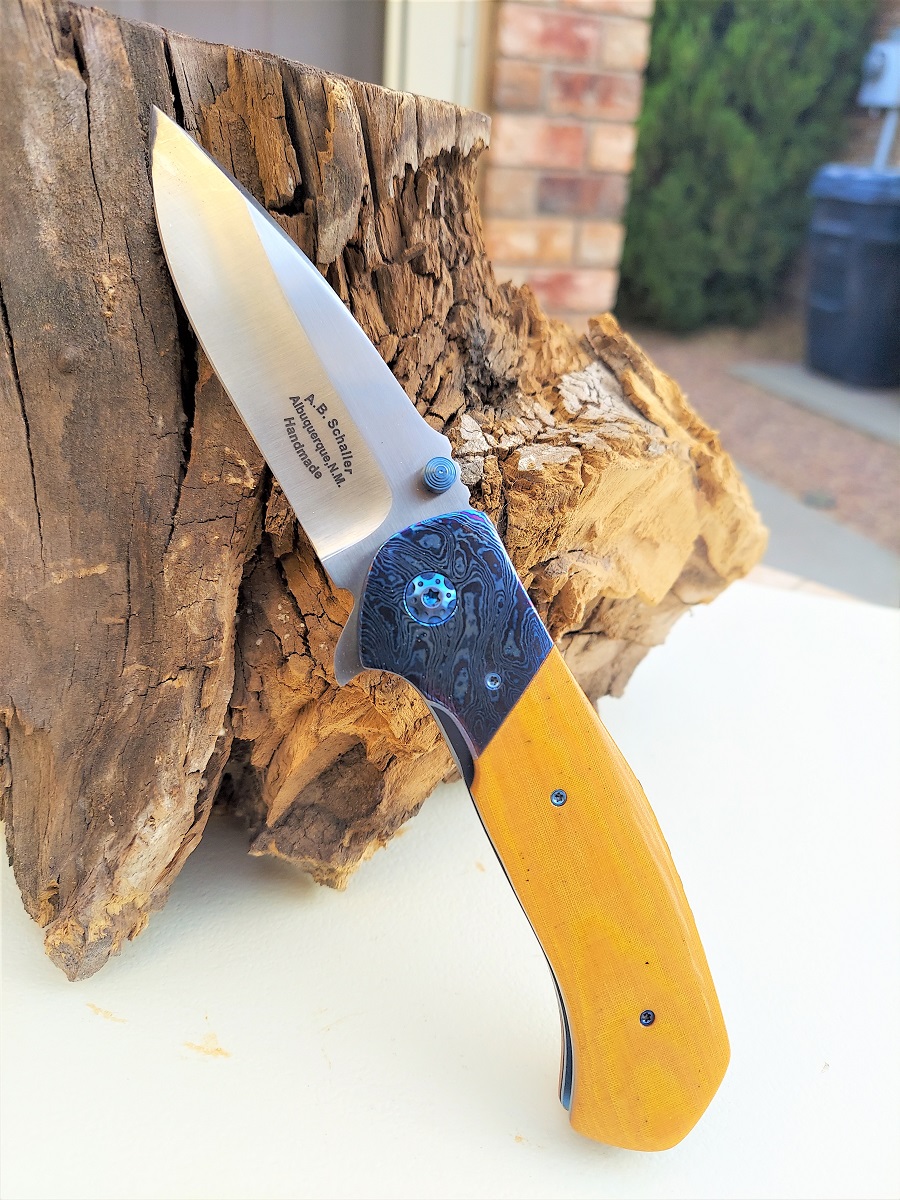 Here's an Orca flipper folder with Timascus bolsters and vintage butterscotch Micarta scales. Titanium hardware and a milled Timascus pocket clip complete the package.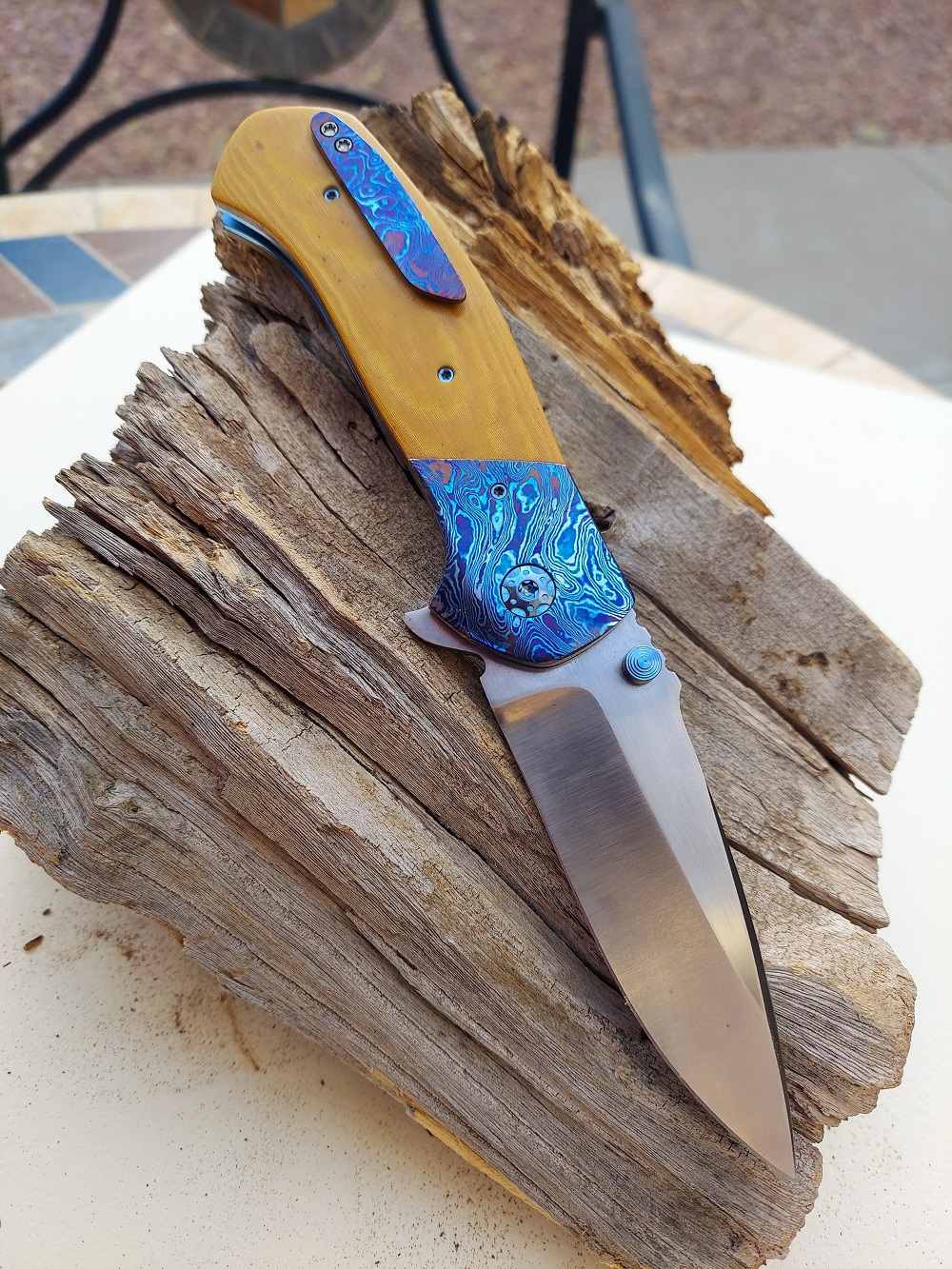 March 9, 2022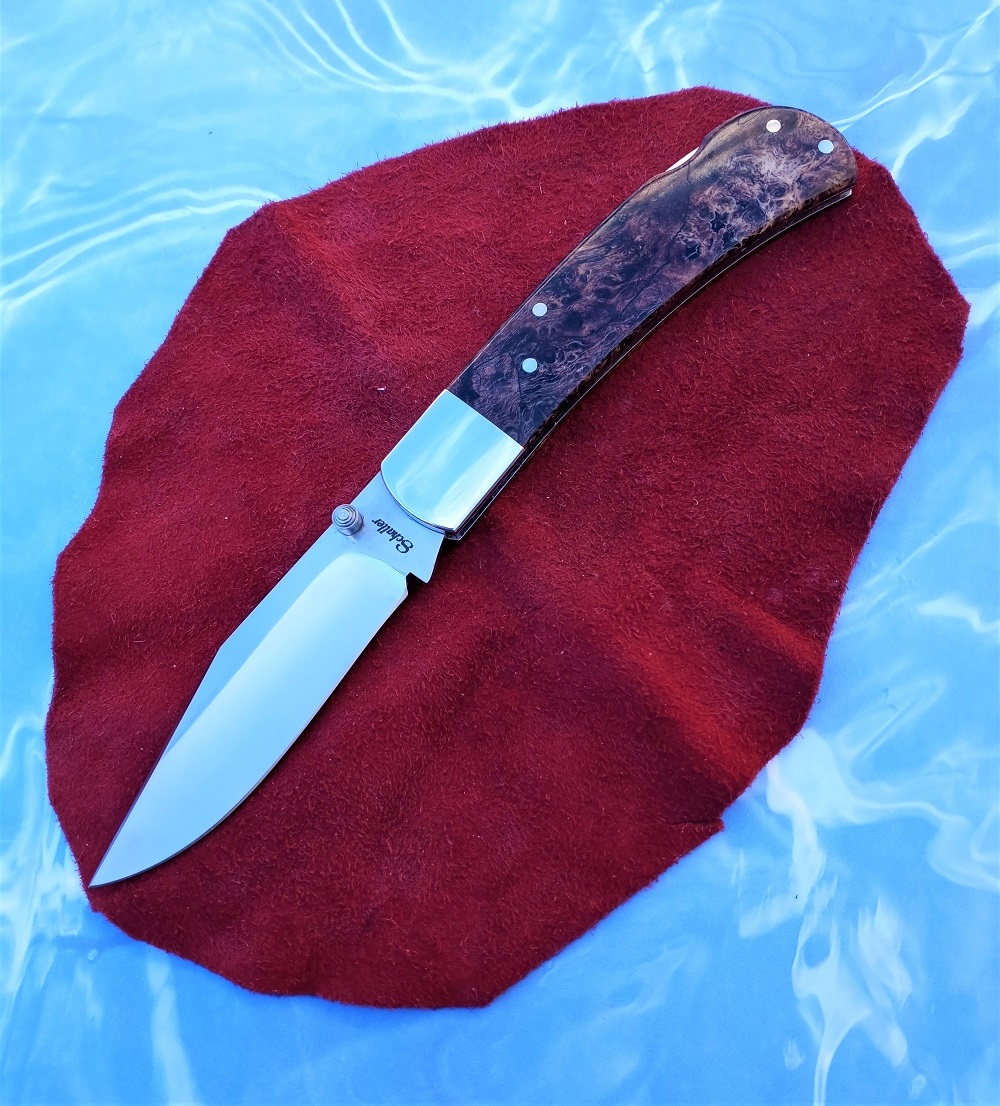 Finally got the lockback finished up! This one is put together in the traditional manner, with peened pins - no screws. Nickel silver bolsters and liners, and a kind of non-traditional thumbstud instead of a nail nick.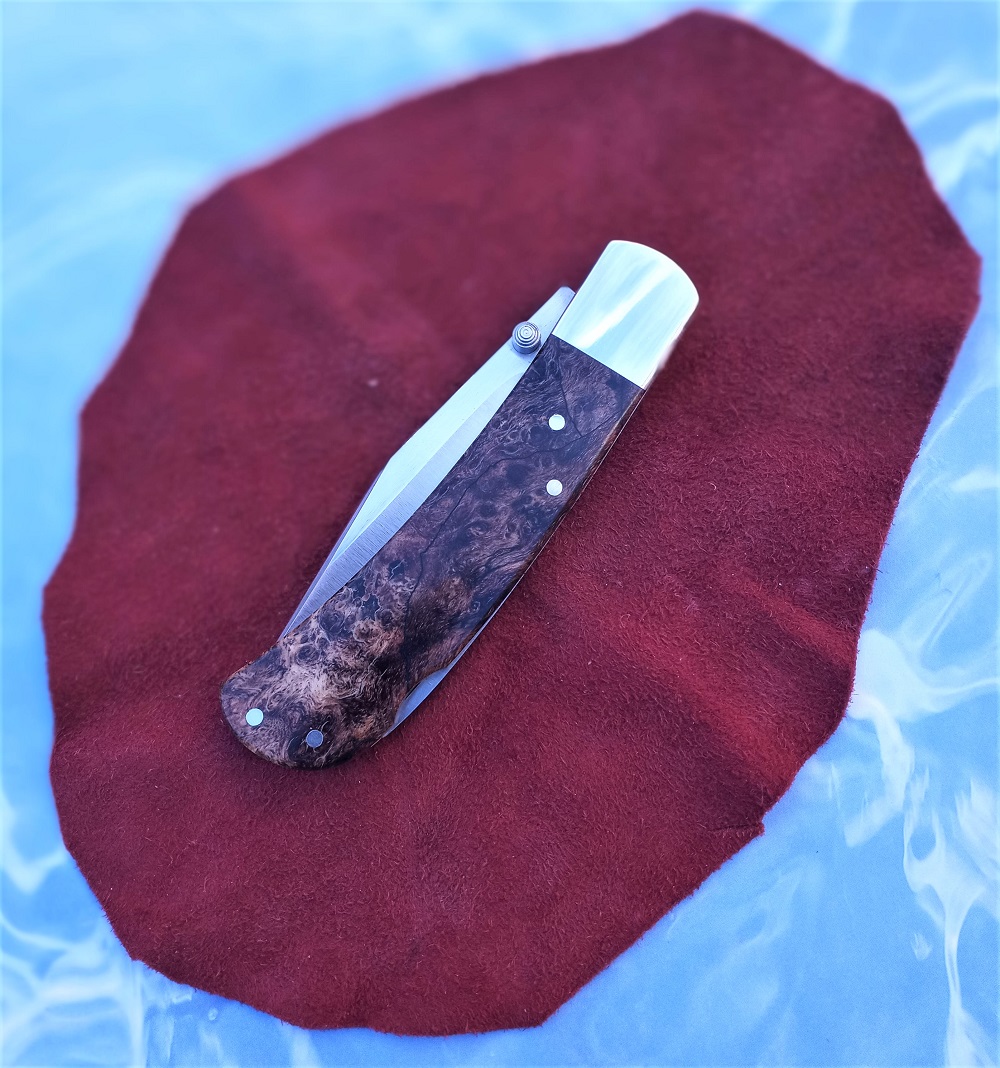 September 3, 2021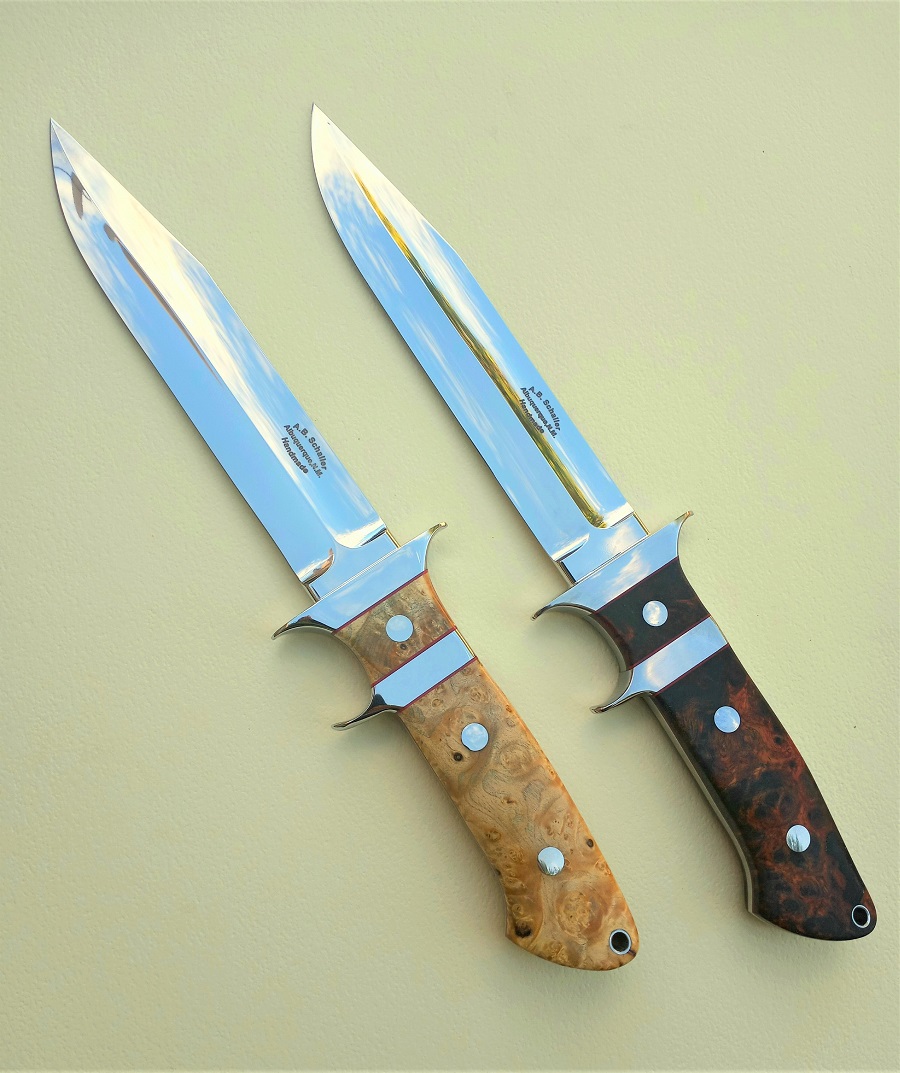 Two Loveless-style subhilts finished up! Box Elder burl on the left, Amboyna burl on the right. 416 stainless fittings.
Impossible to get a good picture of these with my poor photography skills - the double 3" hollow grinds reflect light everywhere!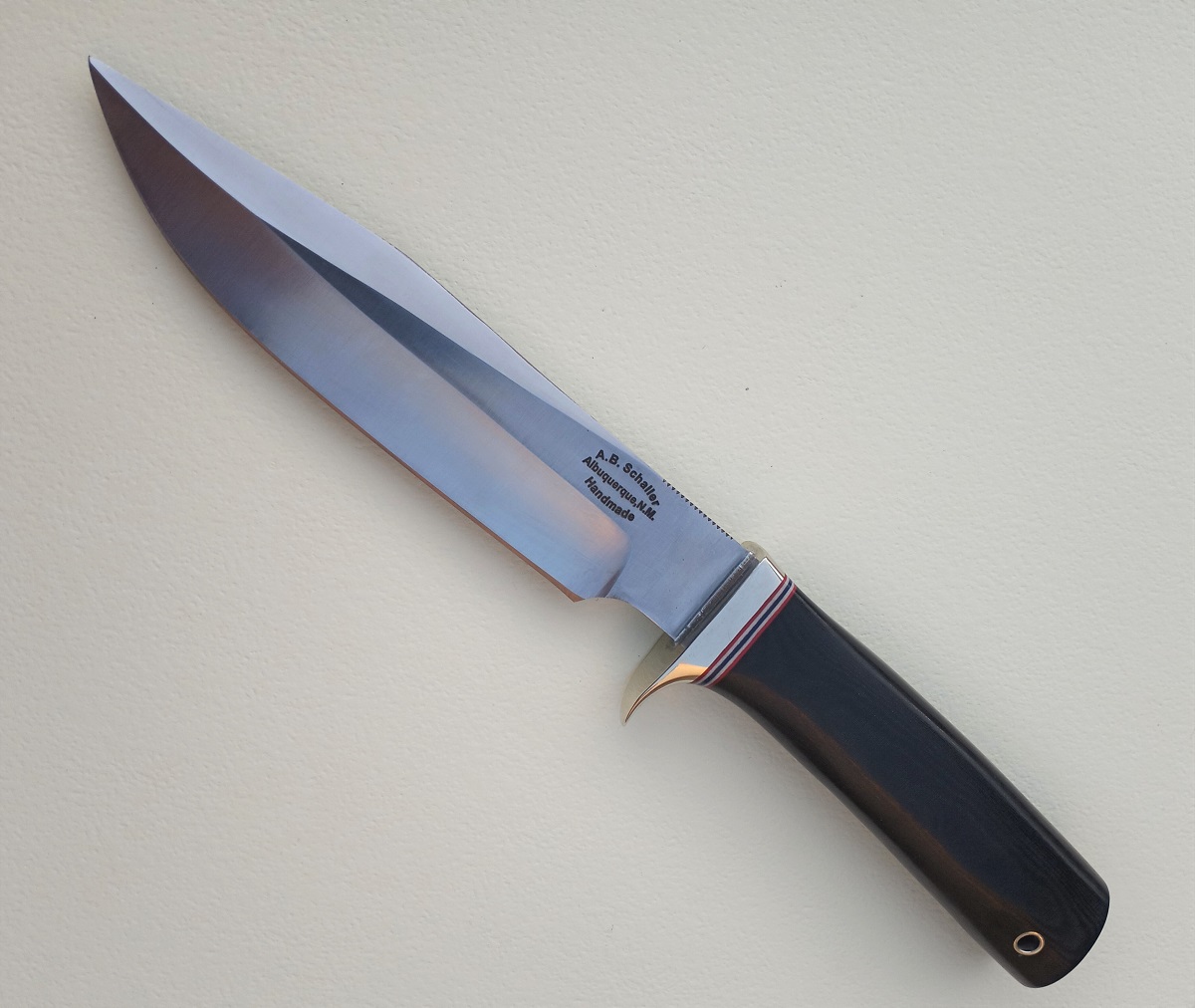 November 4, 2021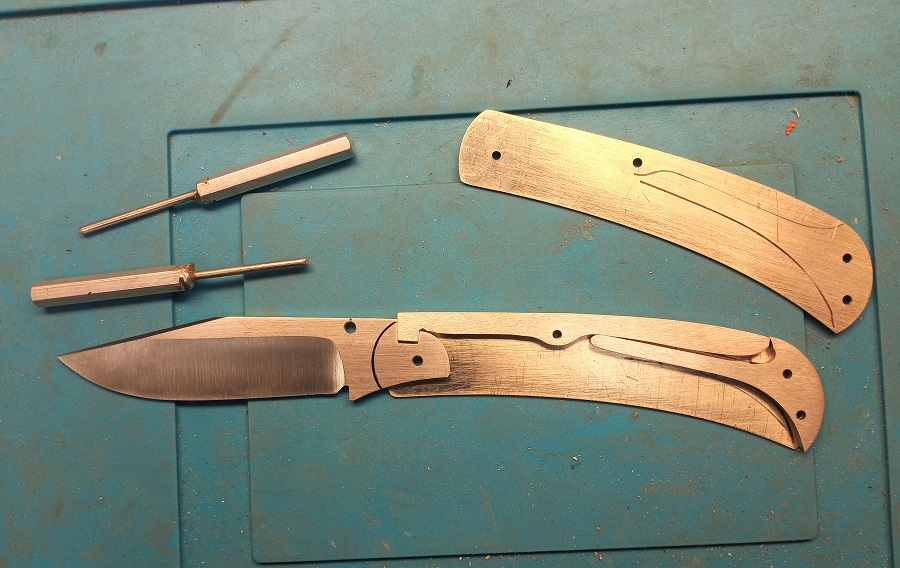 Something different - my first attempt at a lockback. Hope to finish this and two new slipjoint models in time for Christmas!




April 26, 2021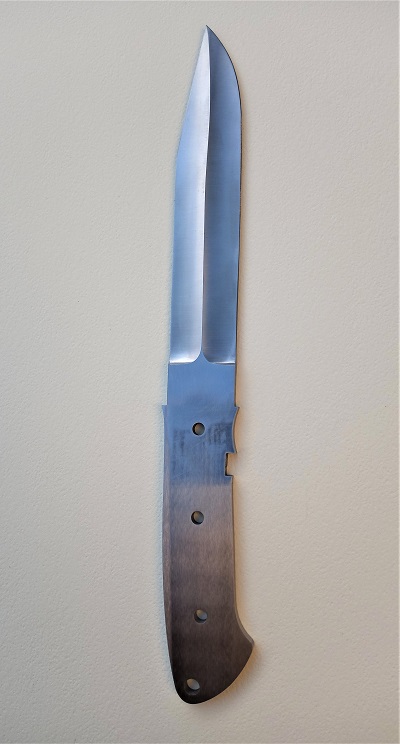 Here's a subhilt fighter blade with the bevels ground in on a 3" wheel. Next, the guard and subhilt will be fitted, then the tang will be tapered. Then it's on to heat treat!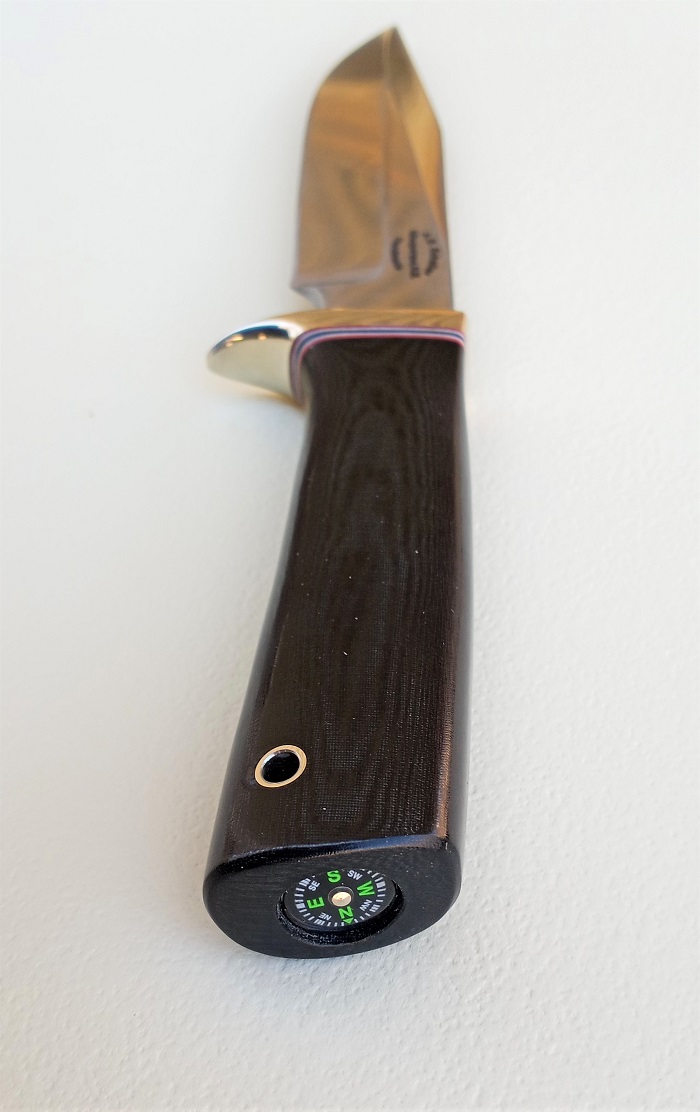 March 30, 2021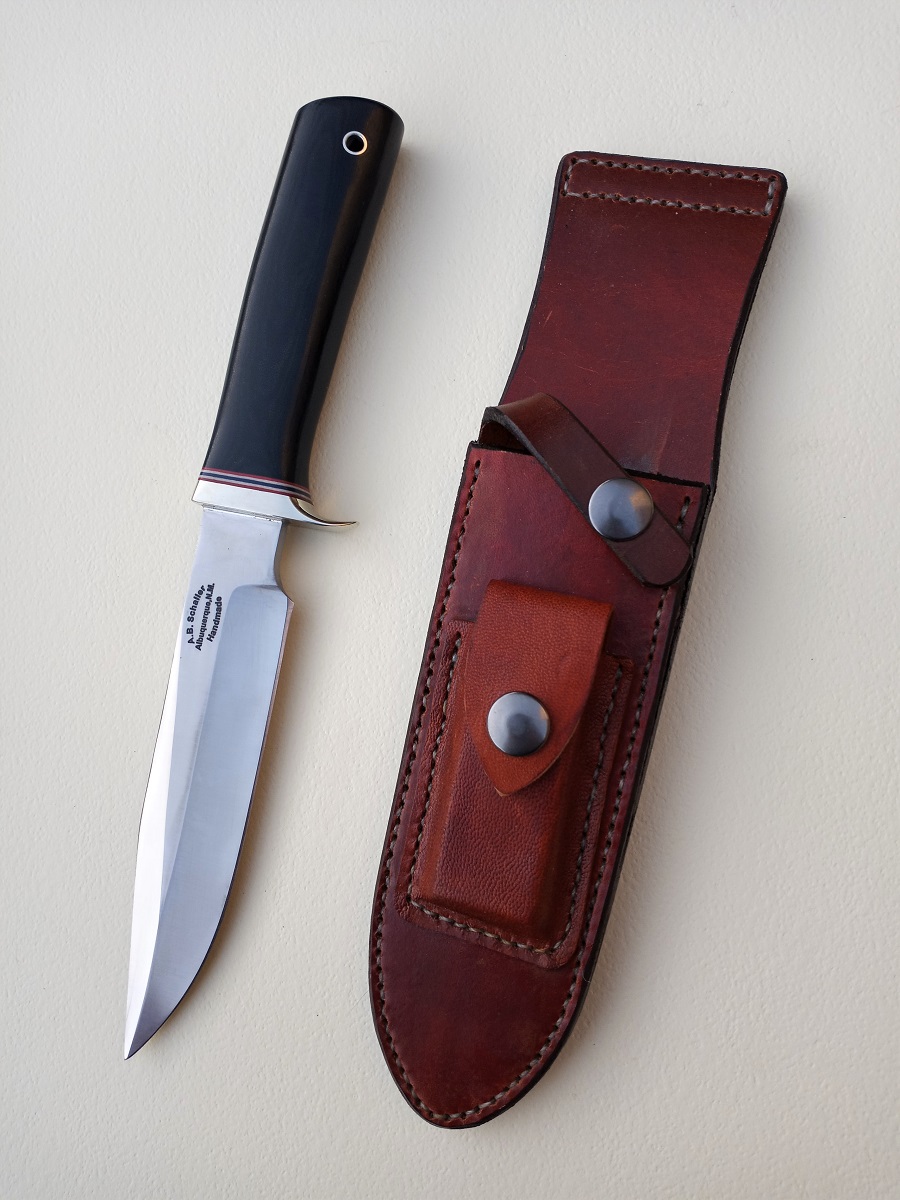 I've been wanting to do this for a while . . . I made a reproduction of an old-style Randall model 5 Camp and Trail knife, Bradford Angier version, with a black Micarta handle, nickel silver hilt, and compass in the butt.
The newer ones have a rounded top at the guard - this is the old style squared top. I just like the aesthetics.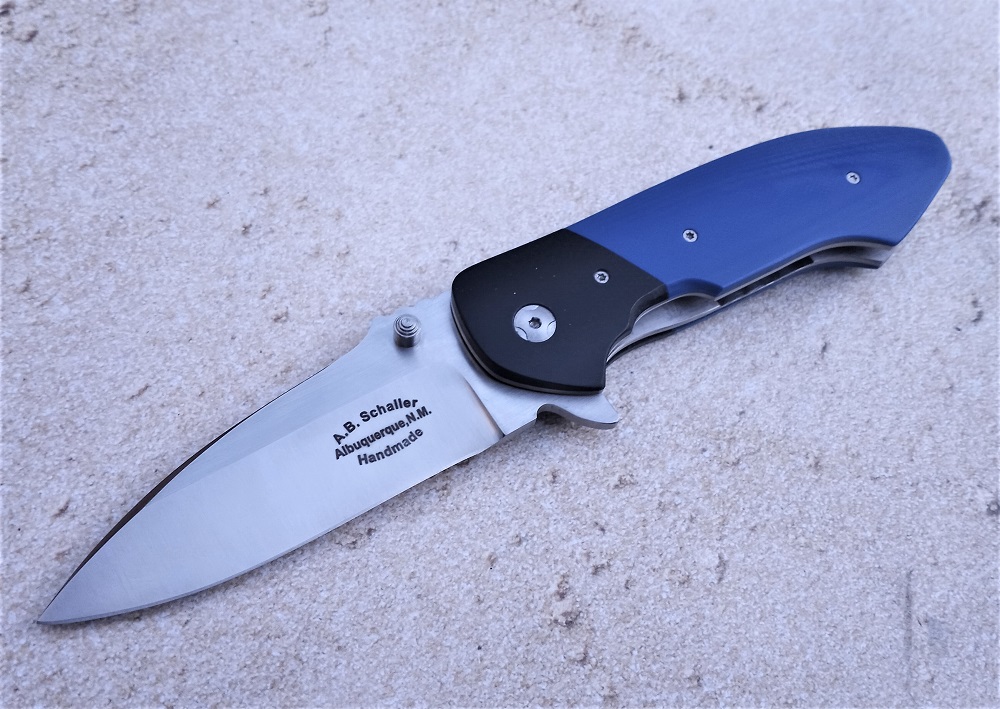 The Delphi flipper folder. Opens easily with just a push of the flipper lever thanks to the caged ball bearings around the pivot. 3 3/8"" blade, 7 3/4" overall. Available in either locking liner or framelock configuration. Thumbstuds optional. Pictured here with optional G-10 bolsters, thumbstuds, and blue G-10 scales. The Delphi starts at $360.




February 9, 2021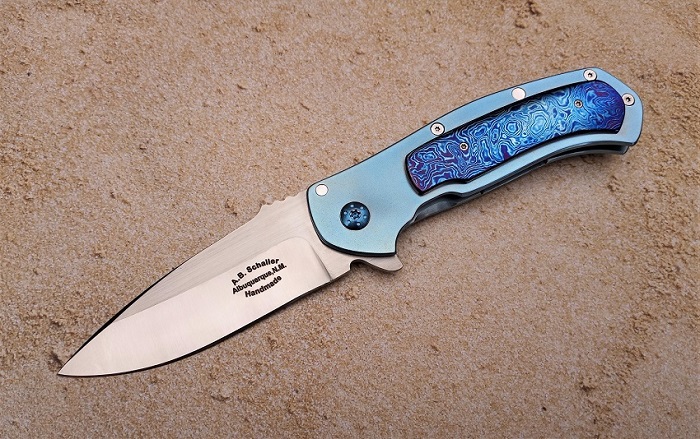 Here's an Orca flipper made as a framelock with Timascus overlays. Frame, pivot screws, and clip are anodized a powder blue to contrast with the heat-colored Timascus.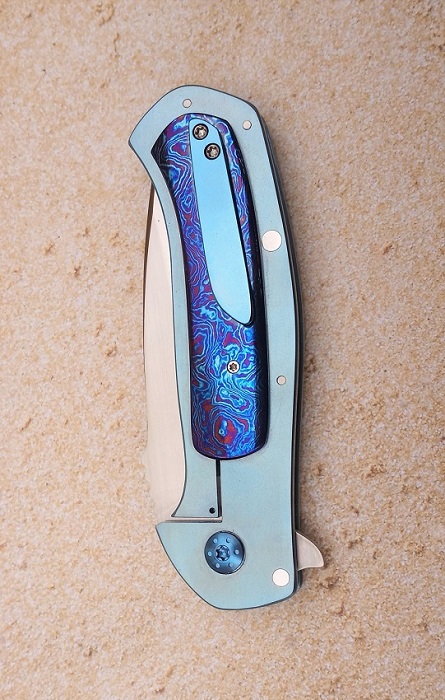 October 6, 2020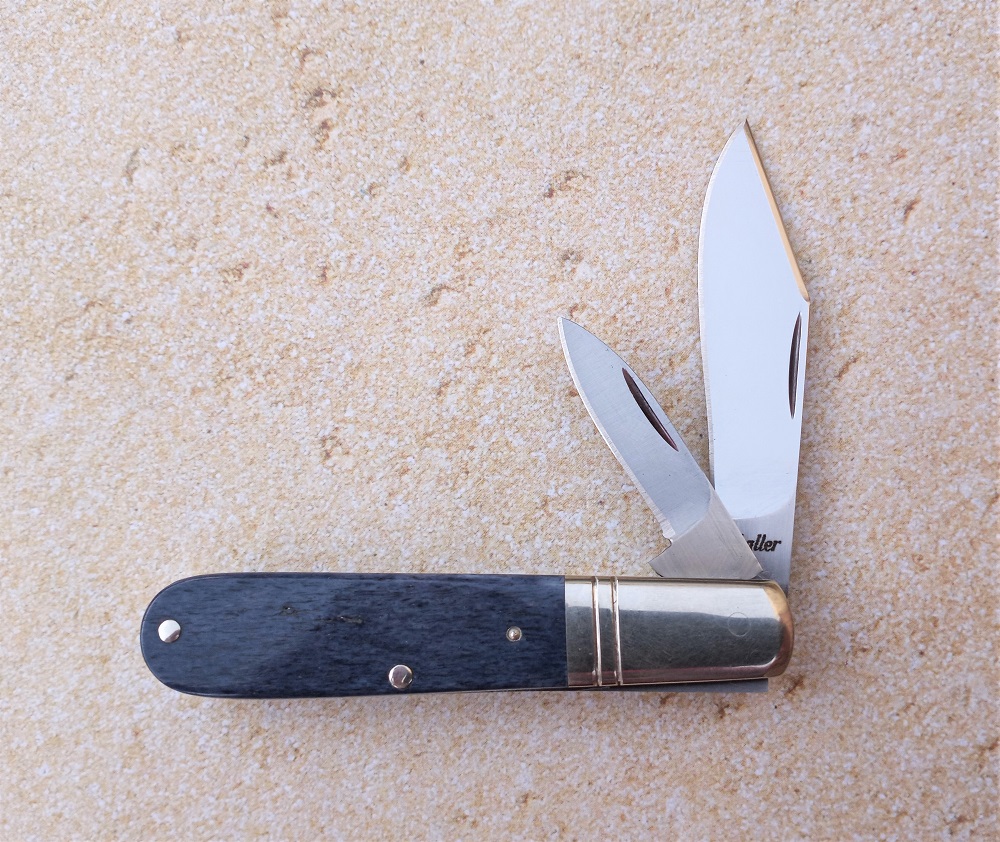 Anyone for a classic slipjoint barlow knife? This is my first slipjoint, but it won't be my last. I'm old enough to remember a time before tactical liner locks, when most everyone carried a slipjoint in his pocket. As a matter of fact, I carried a barlow much like this one in high school (yes kids, you could carry a knife in school back then!)

CPM154 blades, nickel-silver liners and bolsters, and dyed giraffe bone covers. I used the old factory tradition of mirror polishing the front of the main clip blade, and satin finishing the back and both sides of the pen blade.

This one is up for sale - check out my "Available Knives" page.

November 14, 2020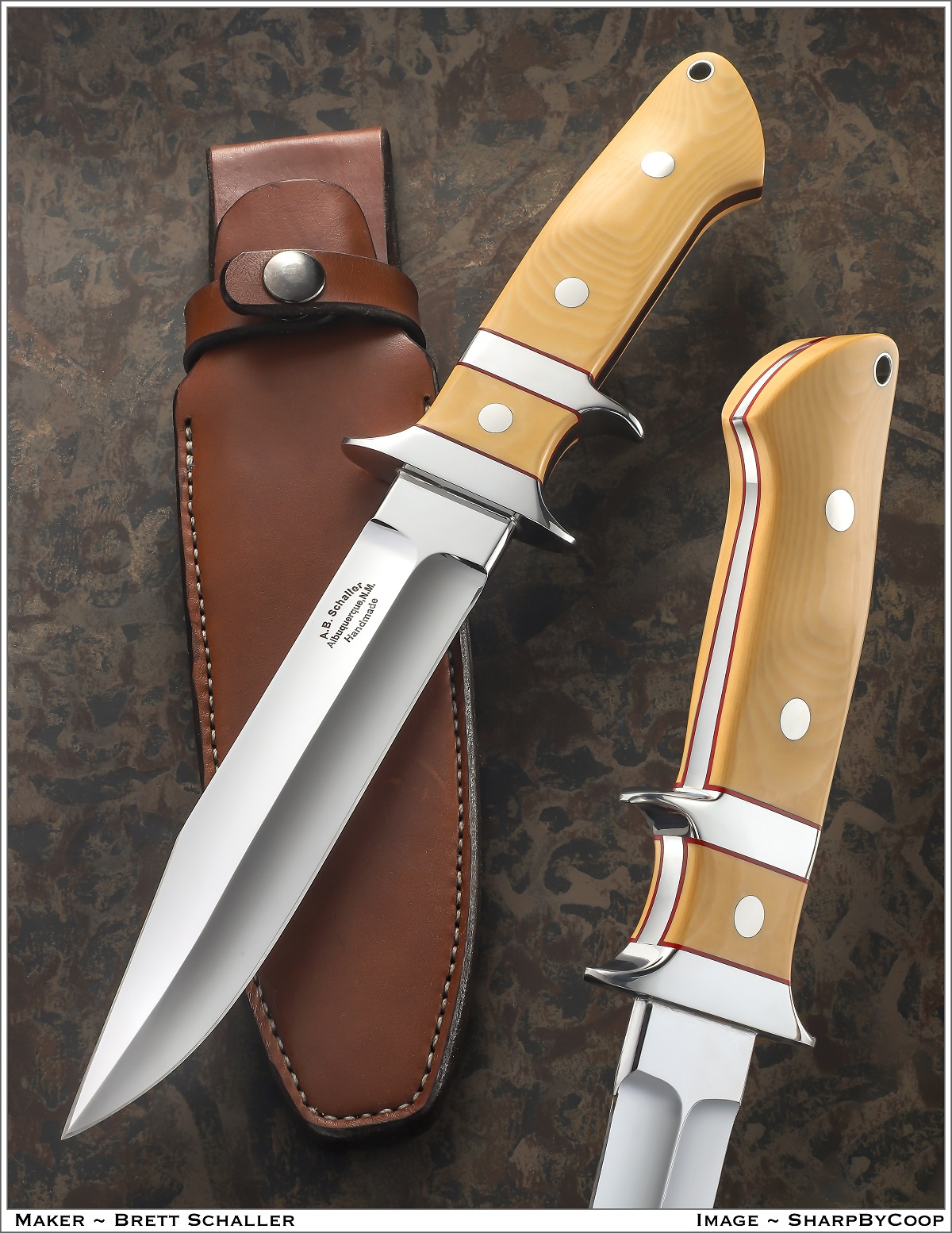 Two new things today! First, a Loveless style subhilt fighter, beautifully photographed by Jim Cooper. Antique ivory Micarta scales and 416 stainless fittings.

Second, a new model - the Delphi flipper, terribly photographed by me. 3 3/8" blade, 7 3/4" overall. Blue G-10 scales and black G-10 bolsters. The blade pivots on ball bearings for a super smooth, fast opening. Both these models will have their own pages on the site soon.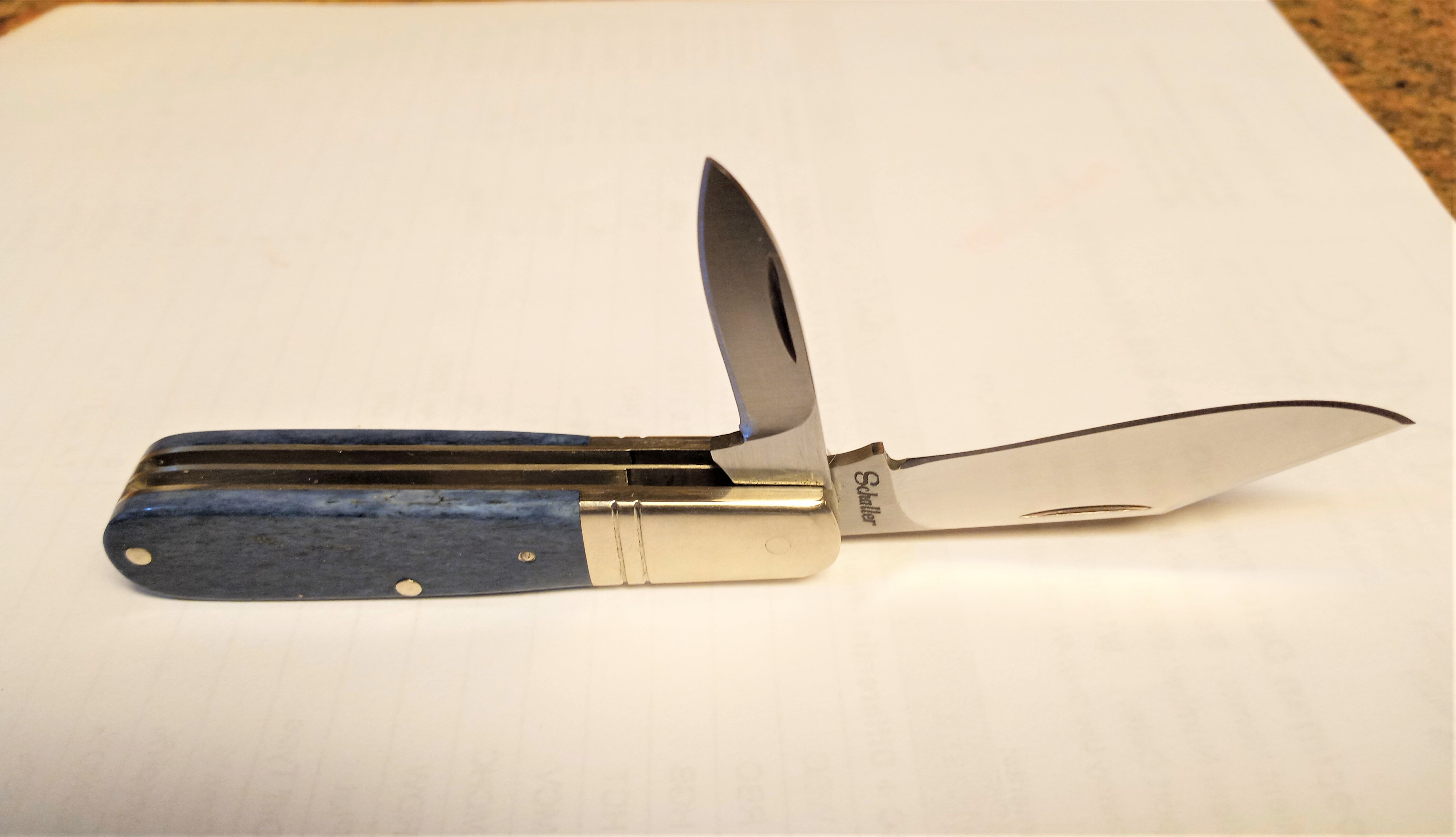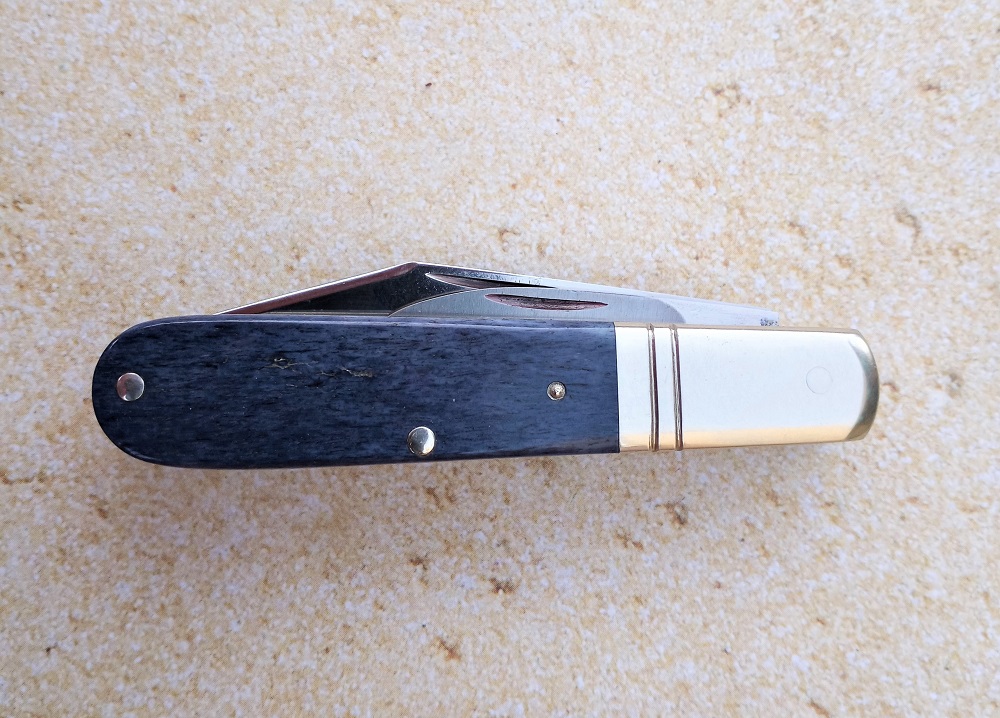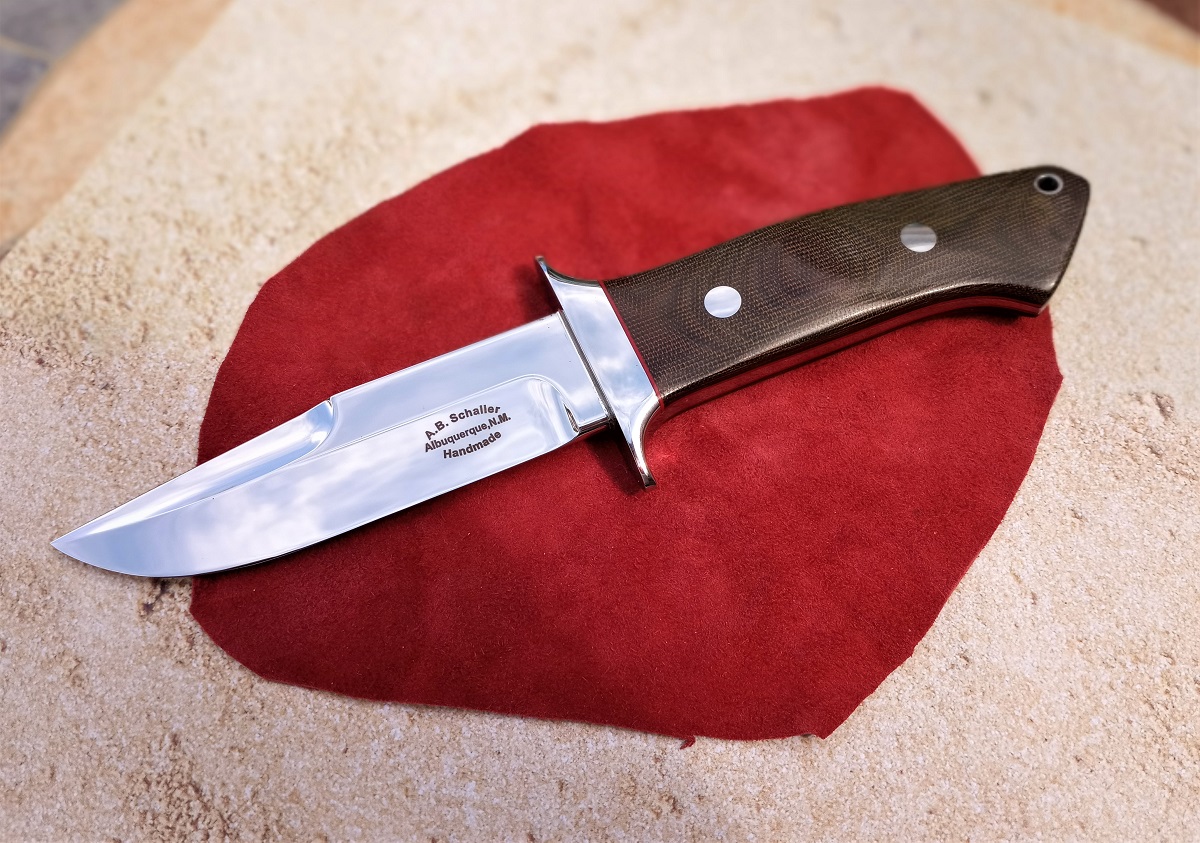 A Loveless/Archer chute knife in green canvas Micarta. 416 stainless hardware, mirror polish.

July 29, 2020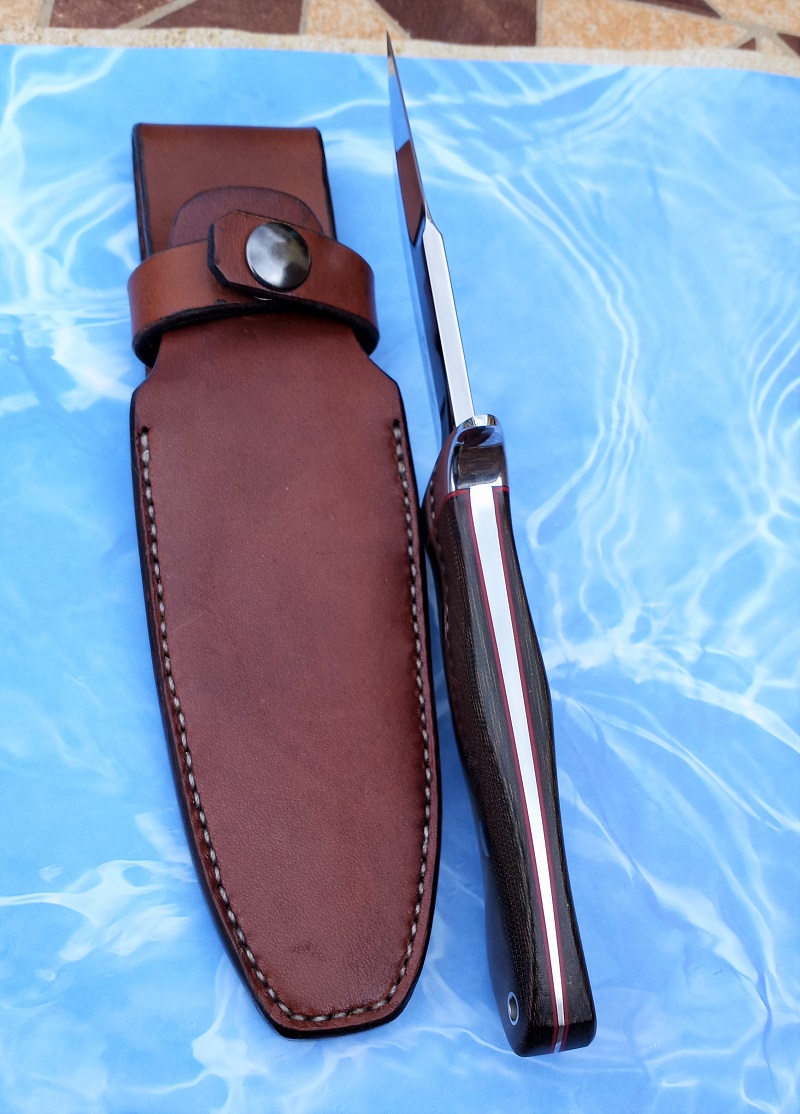 The sheath for the Loveless chute (see below) is finished, and this one is AVAILABLE FOR IMMEDIATE DELIVERY. See my "Available Knives" page for details!

August 25, 2020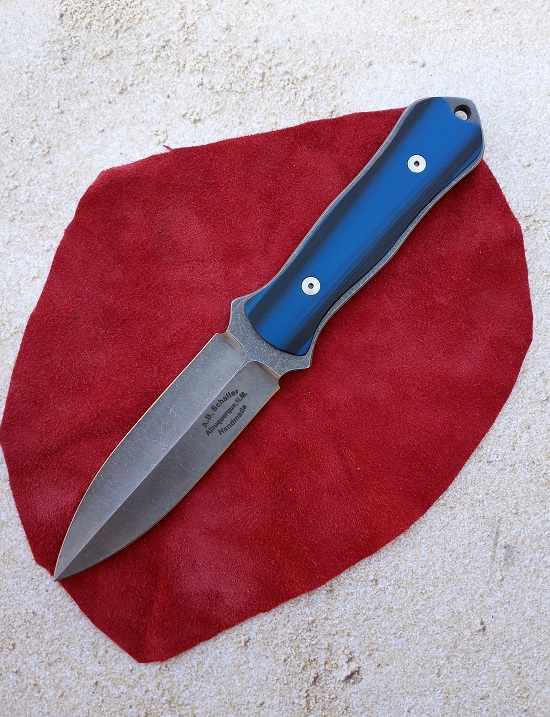 Something new . . . I quite like the way this came out, and I think I'll add it to my catalog. 8 1/4" long overall, with a full double-edge. Hollow ground on a 3" wheel. Acid etched and stone washed blade. G-10 scales and a vertical Kydex sheath.
I put this on my belt to see how it felt to wear, and it's so light I forgot I had it on! So I've decided to call it the "Zero-G.



July 20, 2020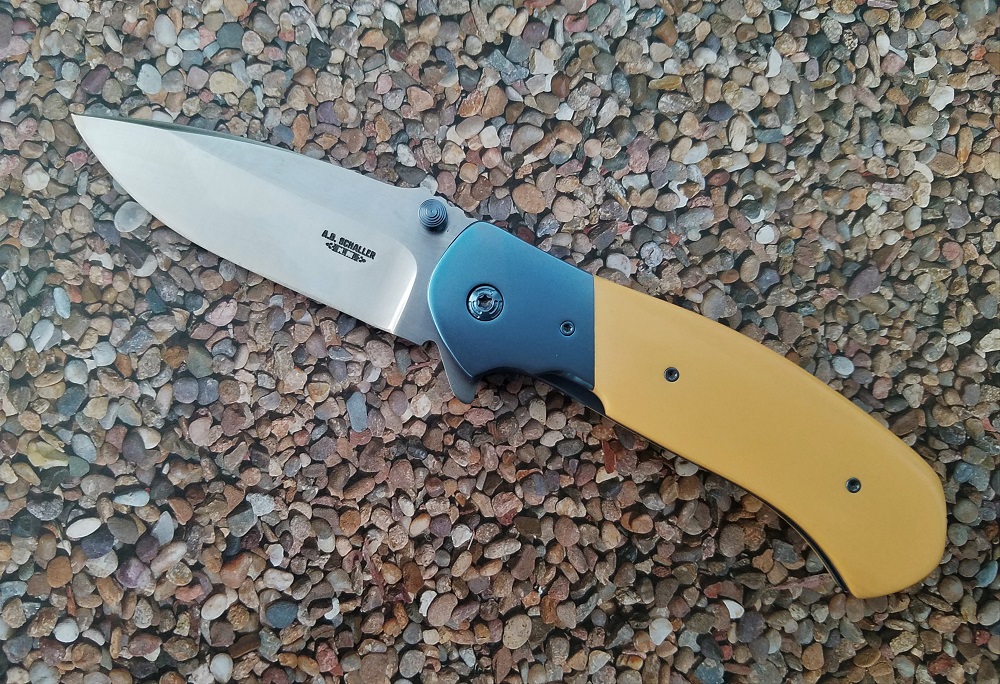 An Orca flipper with blue anodized titanium bolsters/thumbstuds and antique ivory Micarta scales.

August 15, 2020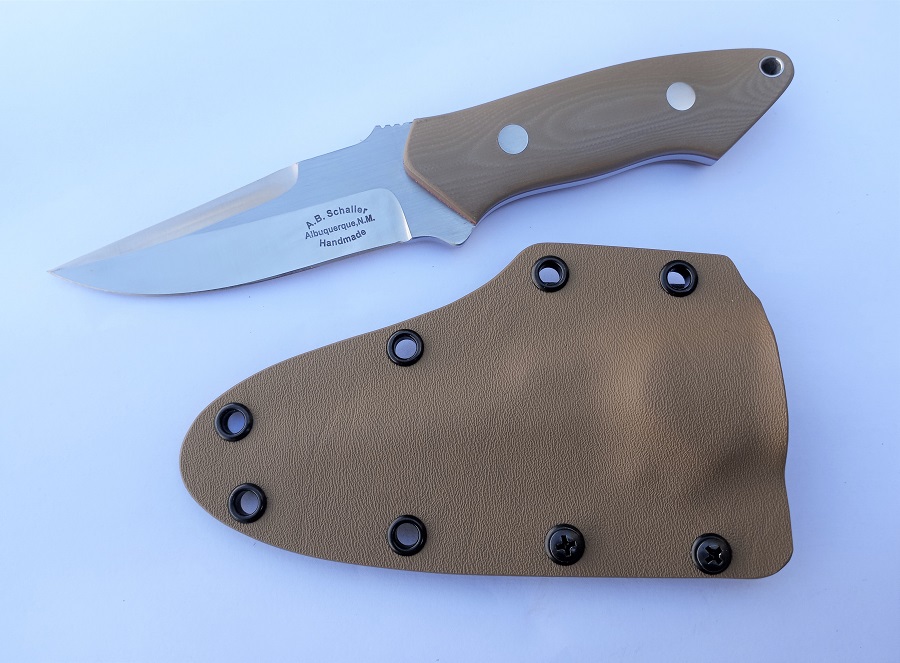 A Shadow with coyote brown G-10 scales and a left-handed horizontal Kydex sheath.




June 27, 2020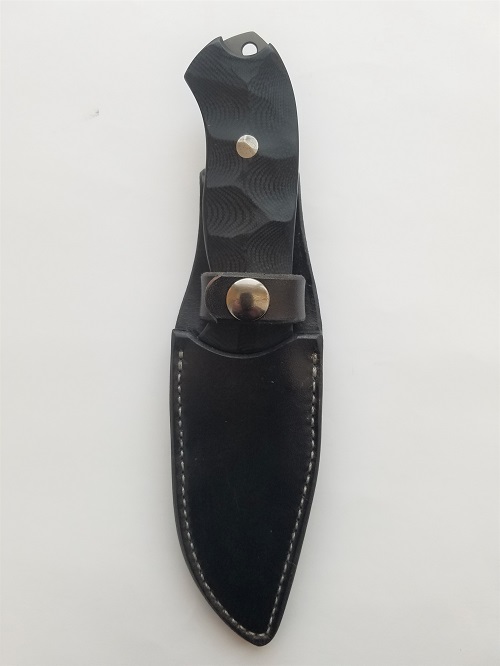 My Ranger model now comes standard with a handmade leather snap sheath! I've tested this sheath and have found it to be both more comfortable to wear and easier to draw and replace the knife than a Kydex sheath. This is a heavy-duty survival knife, but you'll barely notice the weight on your belt.

This one is available for immediate delivery - see my Available Knives page.








The Orca in action:






March 29, 220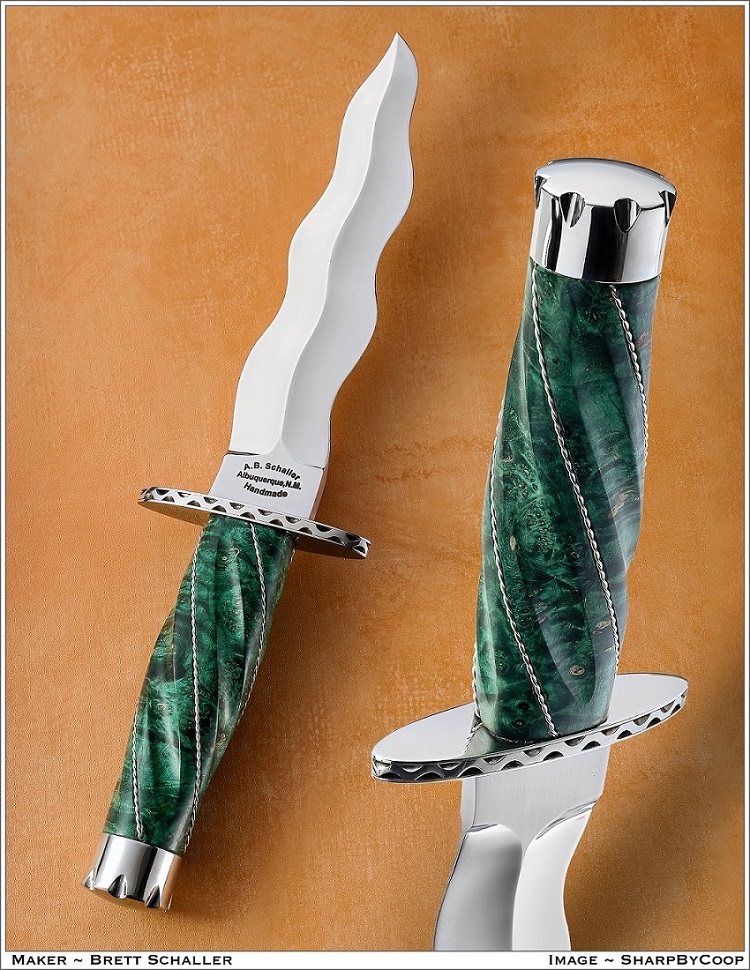 Here's that serpentine dagger blade all finshed up. Green box elder handle, fluted and wire wrapped. Sterling silver wire, twisted in my shop. Nickel silver fittings.




April 12, 2020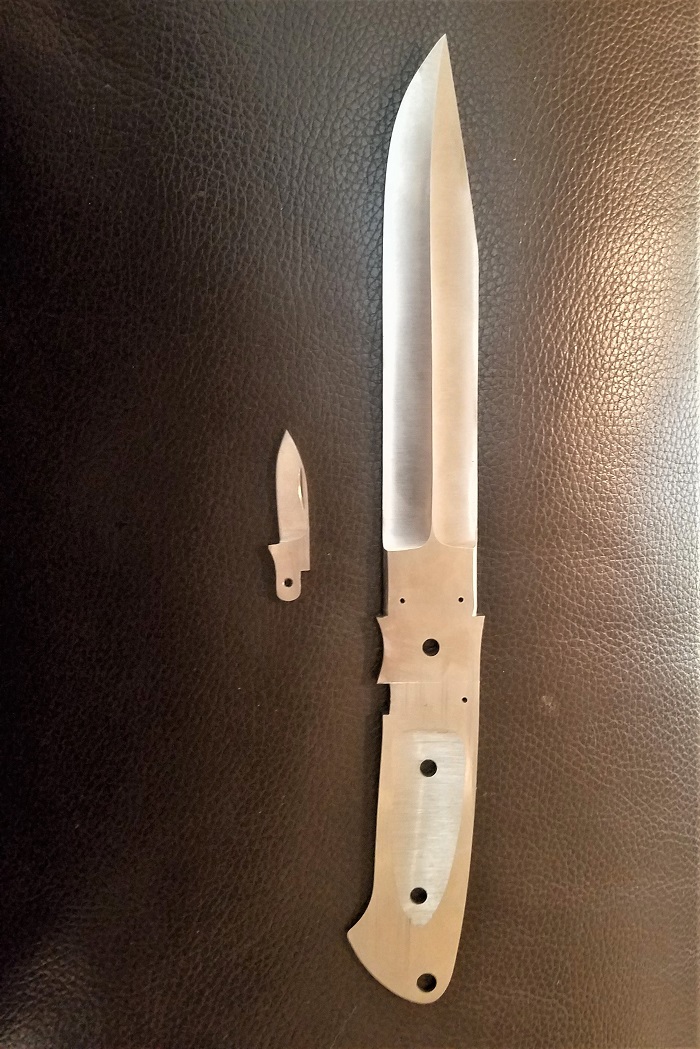 A study in contrasts . . . . Two of the blades I have ready for heat treat. I'd better label them so I don't mix them up!




April 16, 2020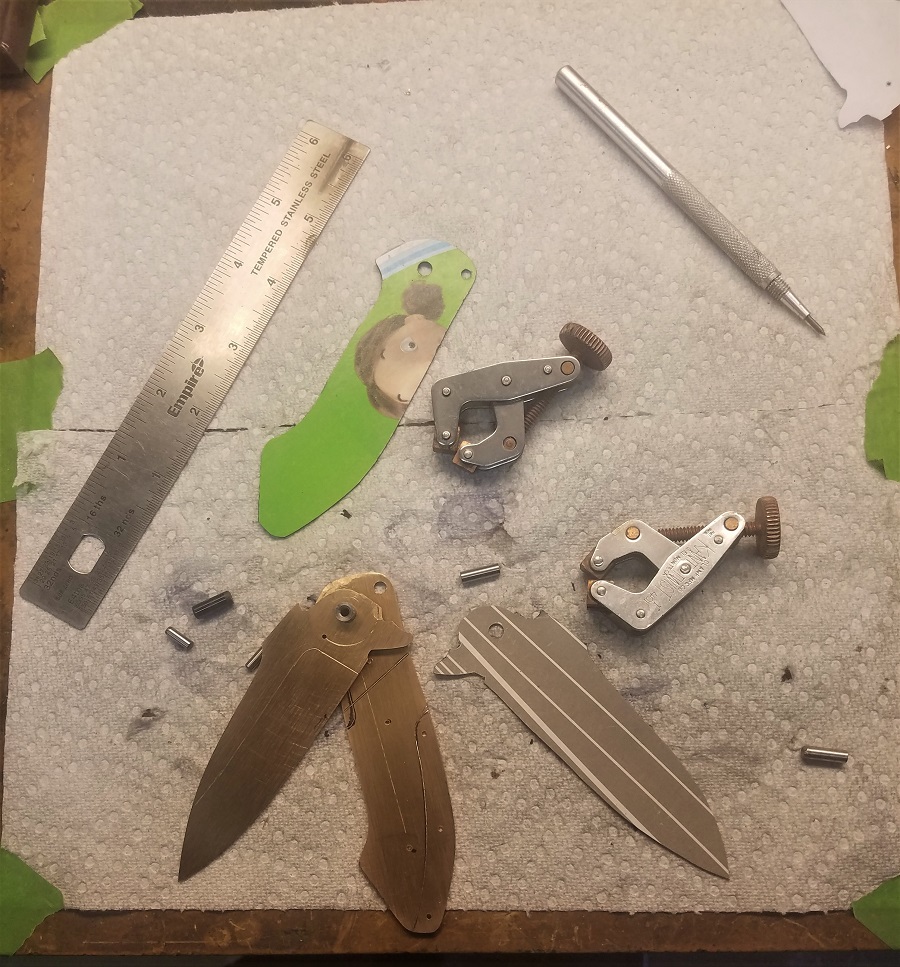 Working on the prototype for a new, as yet unnamed flipper model. A little smaller and more utilitarian than my first flipper model, the Orca.

I think most guys nowadays design these with CAD programs on a computer. Unfortunately, watching me try to run a CAD program is like watching a monkey trying to type out a Shakespeare play. So I start with paper, refine the design on cardboard (a cut-up tissue box in this case) and then make the final pattern on brass sheet.

April 4, 2020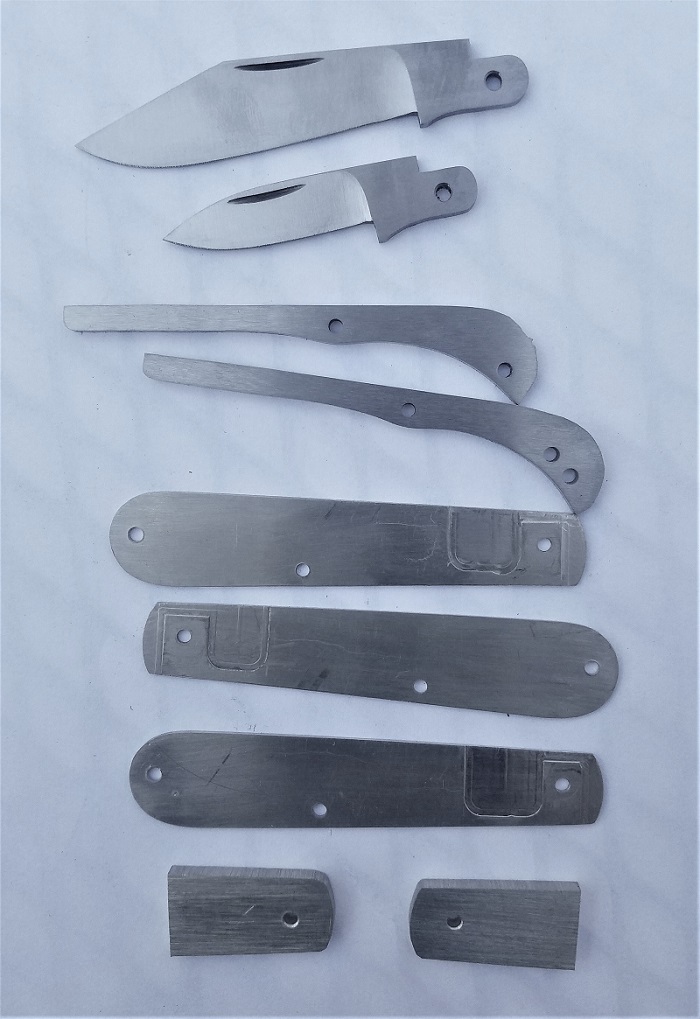 Something new . . . pieces cut out and blades ground for a slipjoint 2-blade Barlow.

March 8, 2020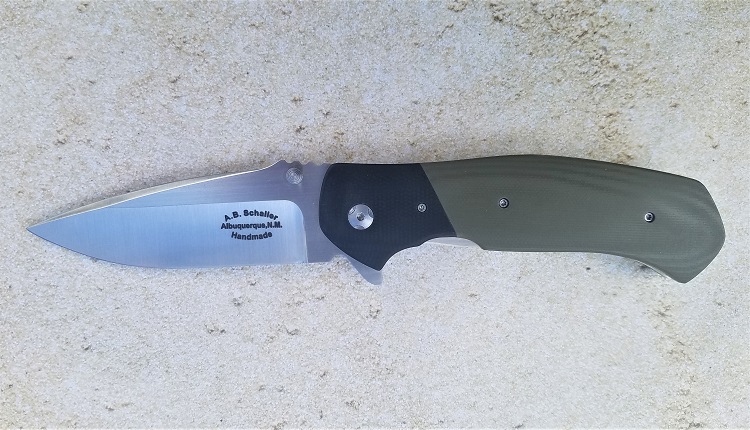 Here's an Orca flipper liner lock with G-10 bolsters and scales and a satin finish, set up for tip-up carry. The pocket clip 6Al4V titanium, made in my shop.

September 30, 2019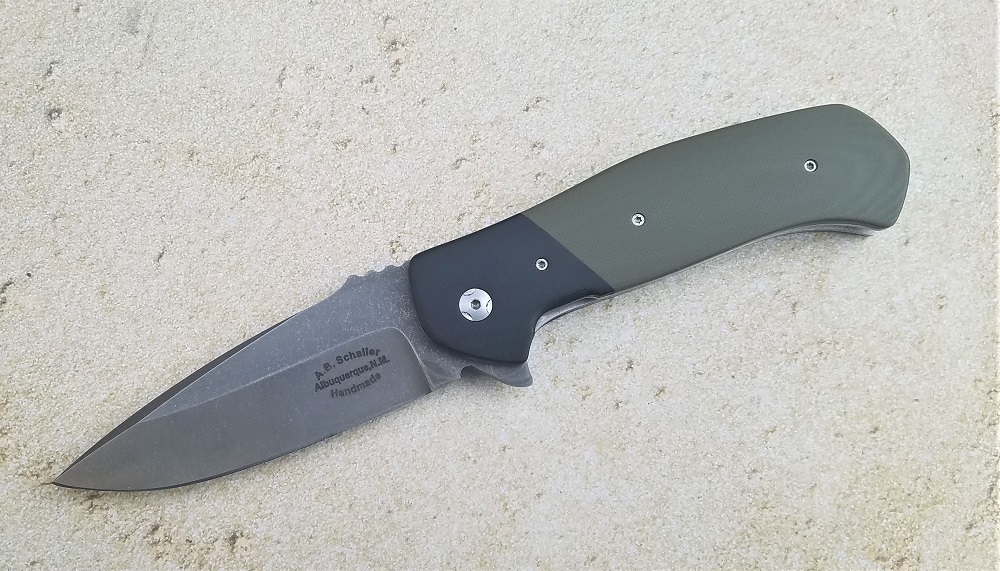 My newest model - the Orca flipper folder. 8 1/2" overall with a 3 1/2" blade. The blade rides on GTC caged ball bearings for a smooth, no wrist-flick opening. Available in framelock or linerlock configuration. Starts at $340. As pictured with OD green G-10 scales and black G-10 bolsters, $370. Note: The pictured knife is available for immediate purchase; see my Available Knives page.



February 26, 2020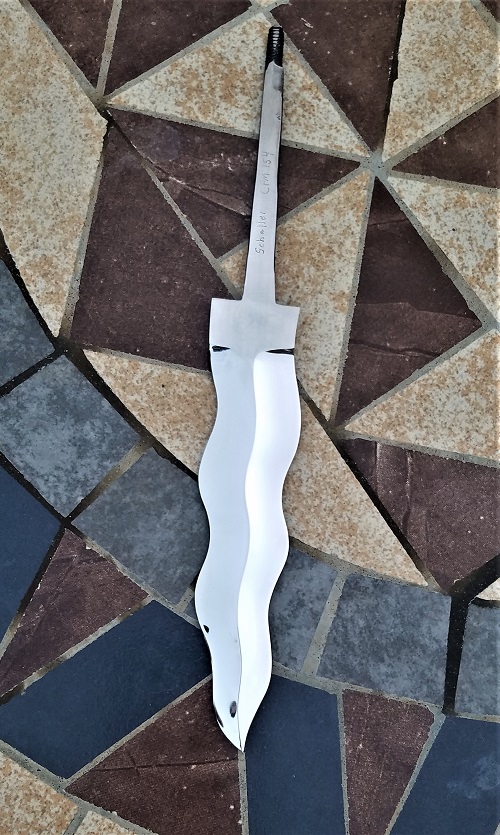 All polished up . . .

Impossible to get a good picture (at least with my poor photography skills) because it reflects light like a funhouse mirror!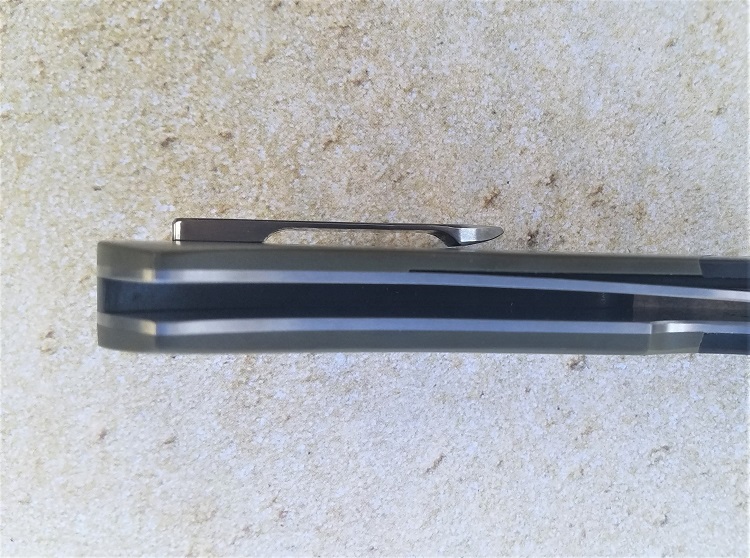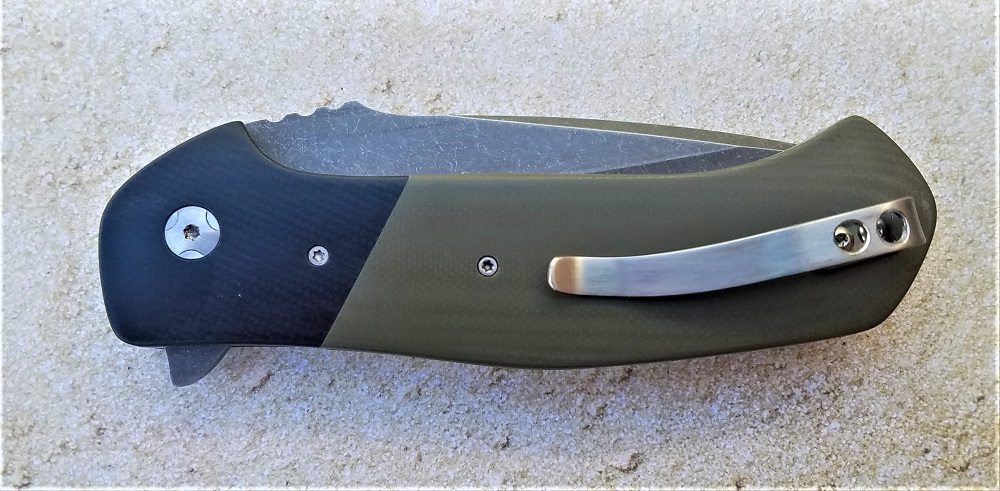 January 24, 2020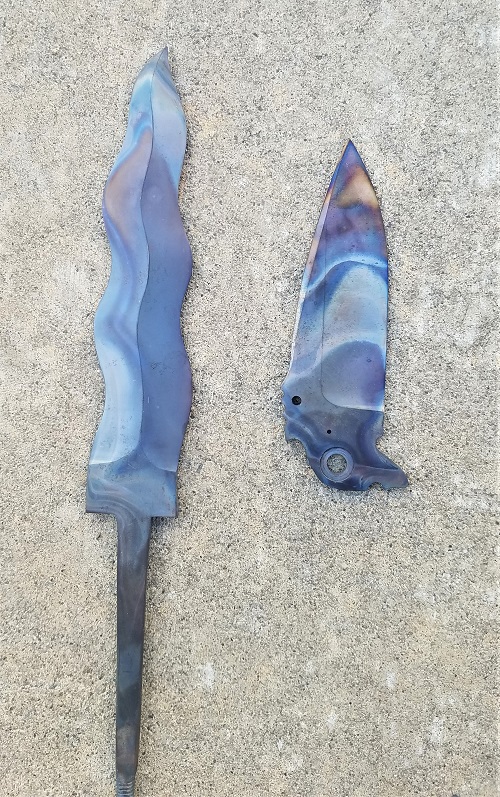 A couple just back from heat treat. Look at those pretty heat colors!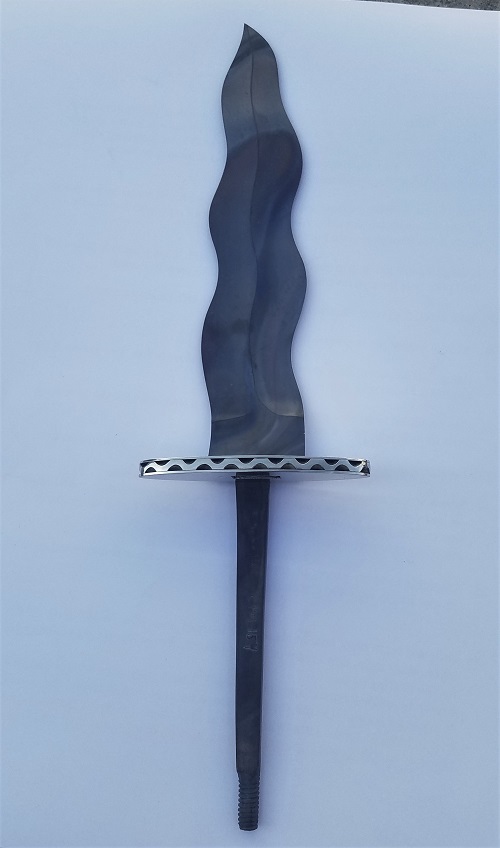 Working on the guard for the serpentine dagger.




July 23, 2019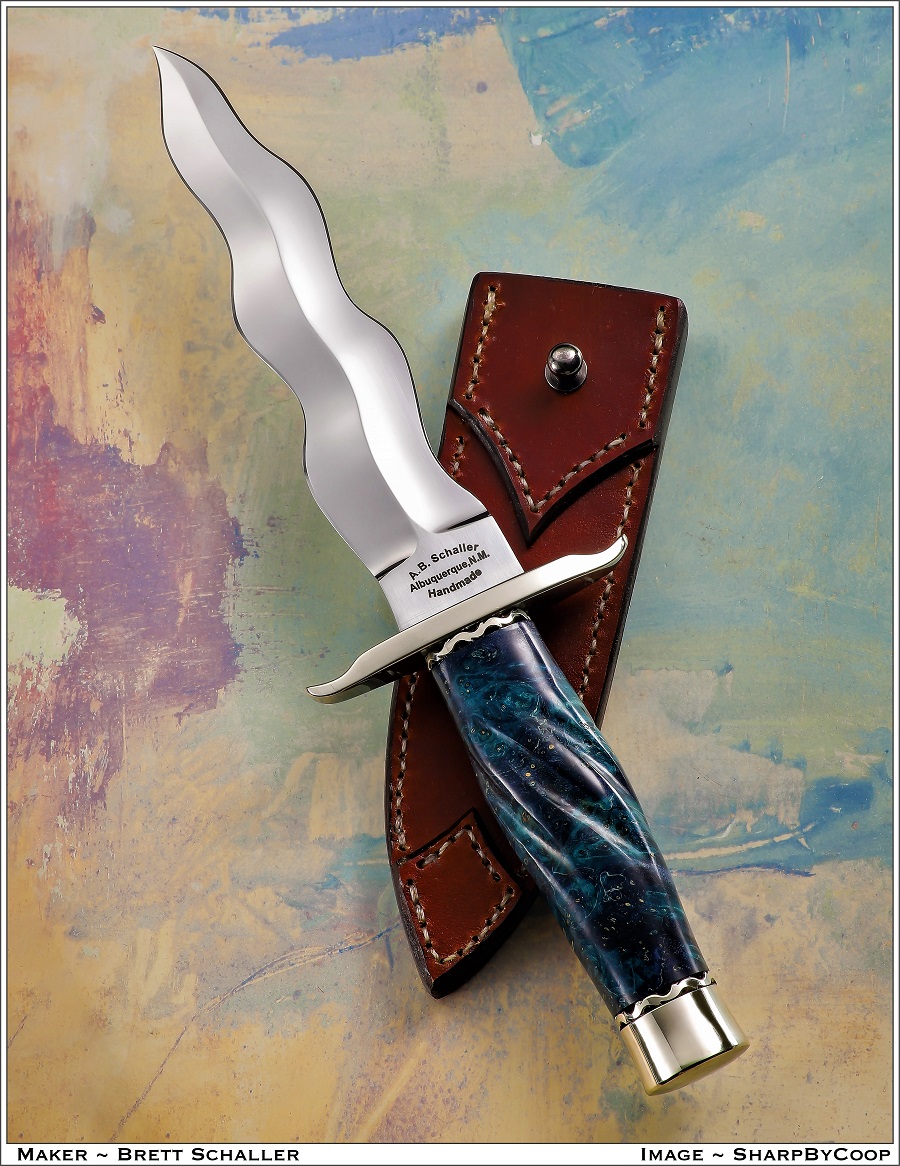 I've always wanted to make one of these. Finally had enough of a lull to devote the time to it.
Blade is deeply hollow ground on a 3" wheel, hand rubbed to 2000 grit, then polished with crocus cloth.
Guard and pommel are nickel silver, as are the fileworked spacers.
Handle is dyed box elder burl, fluted with files and sandpaper.




June 4, 2019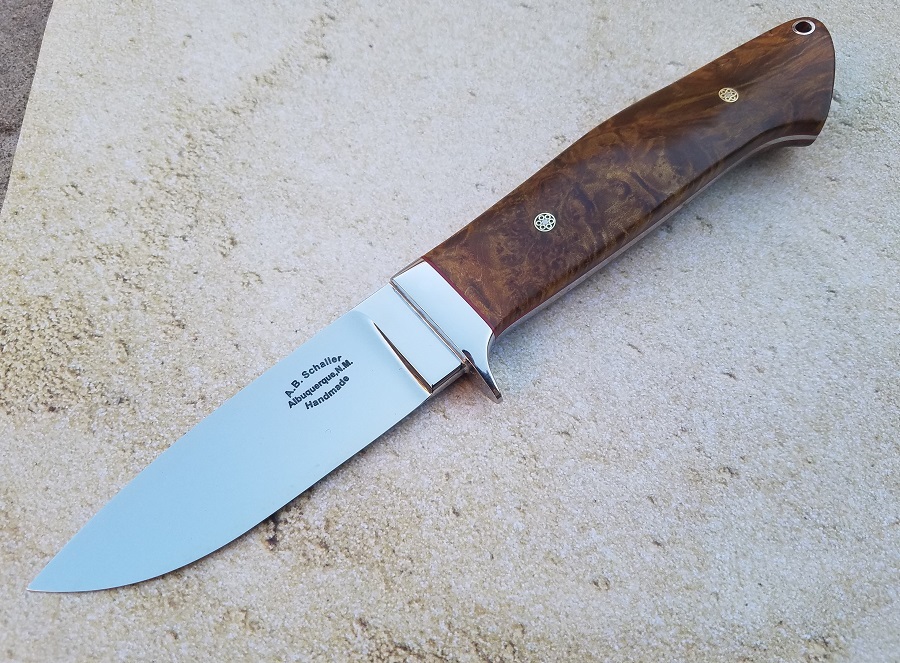 I'm going to try to reorganize the site to be more user friendly. As a consequence, you may find pages duplicated and/or missing for the next few days. I'm the world's worst computer programmer, but I think I can get it done with enough hard work and harsh language (emphasis on the harsh language.)

Meanwhile, just because I don't think I've posted it before, here's a picture of a Loveless style dropped hunter made for a gentleman with very large hands - note the distance between the handle pins, which gives you an idea of the handle length. I have mitts on the large side of average, and this was way too much handle for me!








The Orca flipper in action . . .






April 21, 2019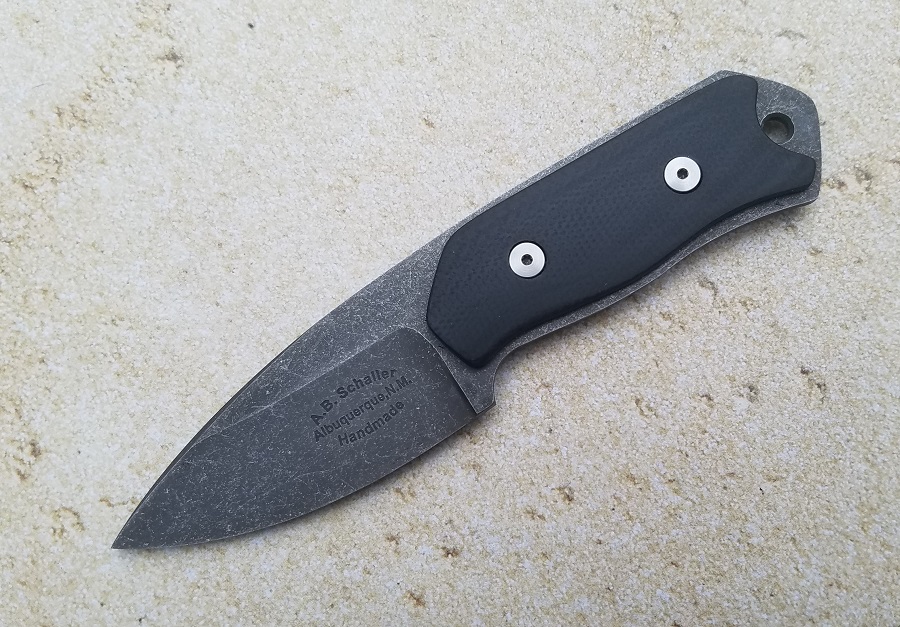 Here's a Goblin II with black G-10, stonewashed.




May 27, 2019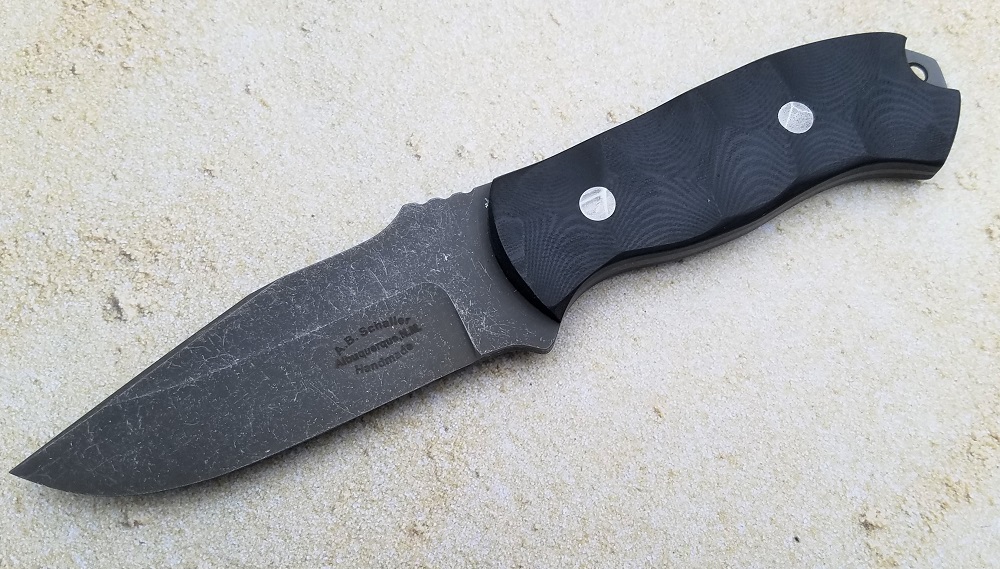 Here's the final version of the new Ranger model, with a tapered tang for better balance. Black G-10 and stonewashed finish are standard - other colors of G-10 and a satin finish are available.




February 17, 2019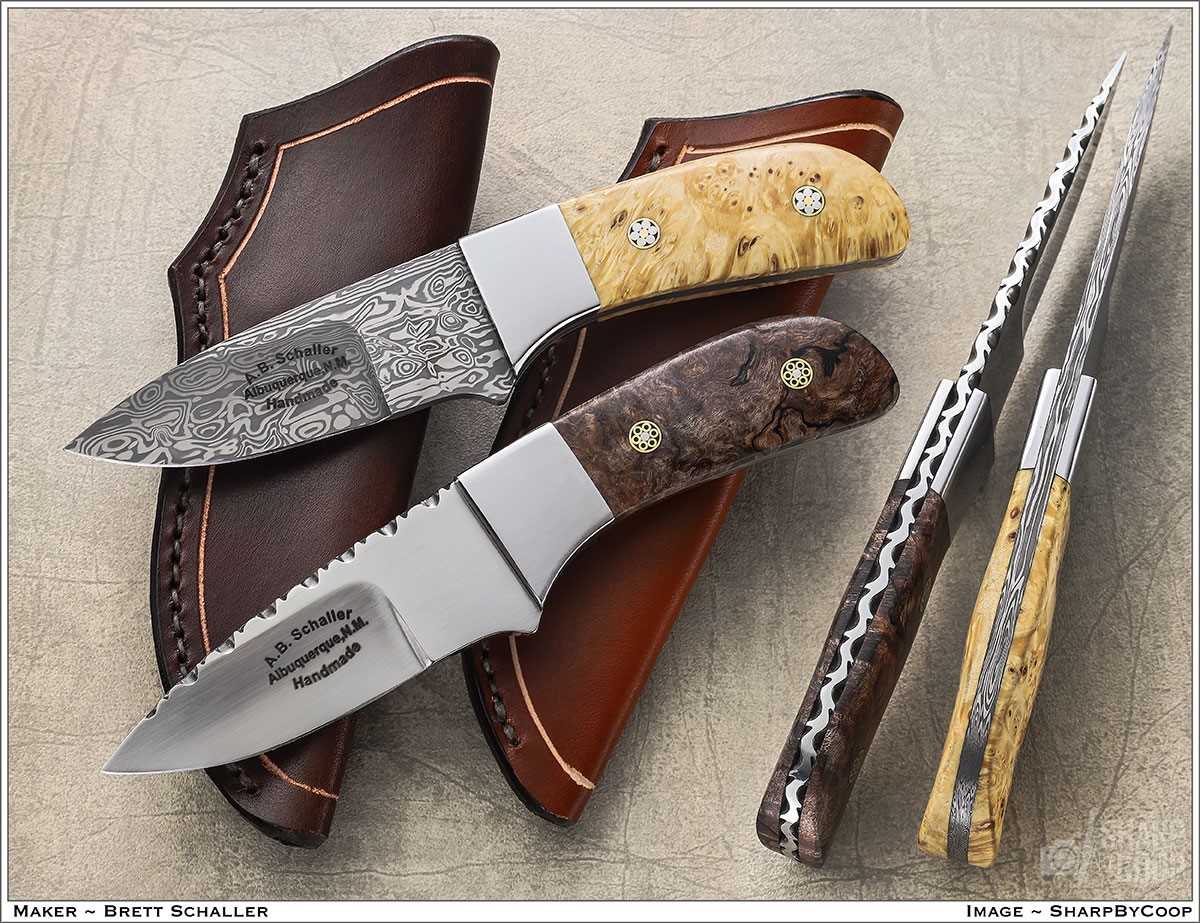 Here are a couple of Companion models, one in Damasteel and one in CPM154 and fileworked, photographed by Jim Cooper (SharpByCoop.) The light/dark woods and the two different mosaic pin styles make a nice contrast.




March 8, 2019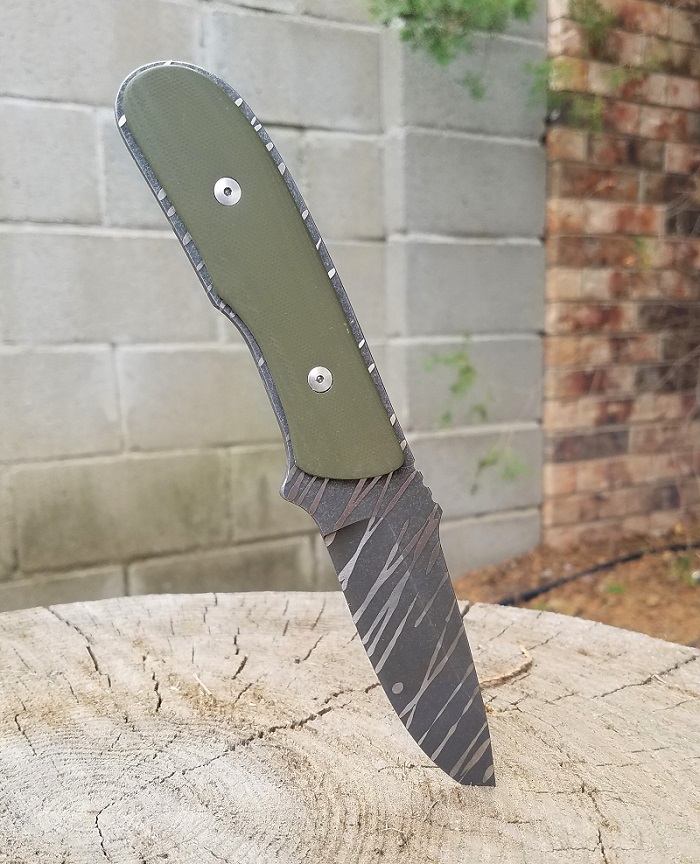 Here's a Scout model with green G-10 and a "tiger stripe" finish.

February 19, 2019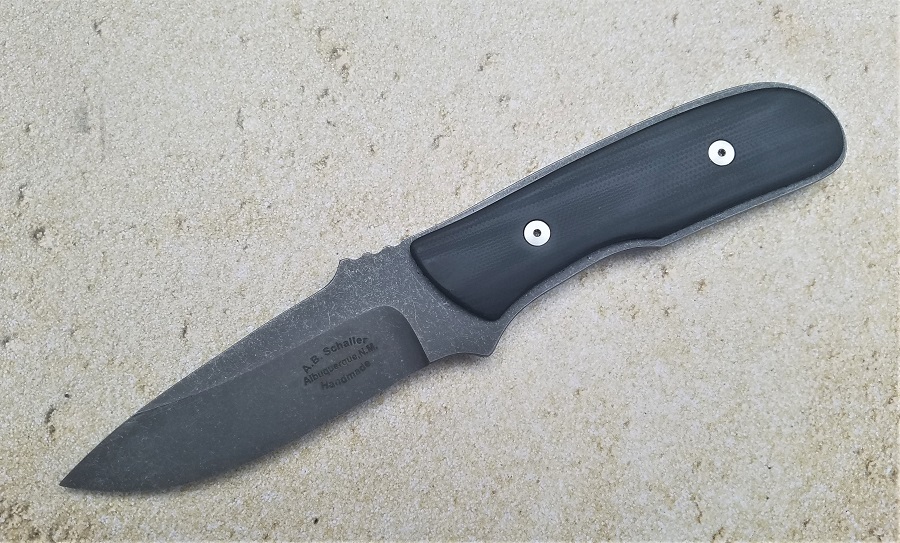 A new Scout model, with acid/stonewashed CPM154 and black G-10. Super light and easy to carry, and super useful, too. I'll have a catalog page up for this model soon.





---
| Return Home | What's New | Fixed Blades | Folders | Frequently Asked Questions | Features and Options | Ordering and Contact Information | Available Knives | Shop Tour | Other Stuff |